Parents' Day Celebration 2023
Heart-warming Parents' Day Celebration at Ya Ge
Specially-crafted dishes and delectable set menus for the special occasions
Available lunch and dinner from 1 to 14 May and 5 to 18 June 2023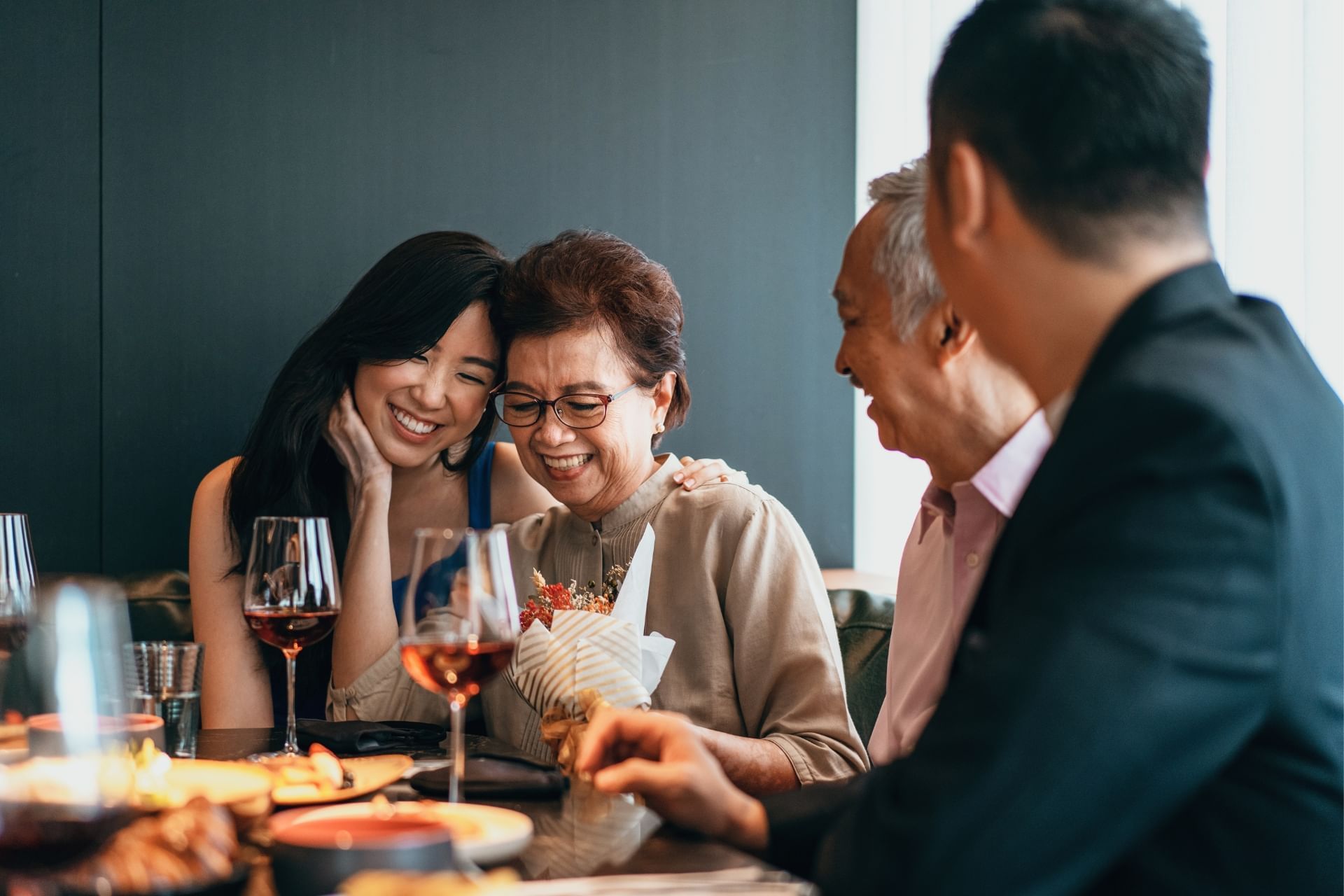 Singapore, 24 April 2023 – In celebration of Mother's and Father's Day this year, Ya Ge's team of chefs has specially lined up an ensemble of heart-warming feasts perfect for families get-togethers and pay homage to the two most important persons in one's life.
Four delectable five to eight-course set menus attractively-priced at $78 per person, $468 for 5 persons and $1288 for 10 persons featuring Ya Ge's signature dishes and familiar classics with a modern taste are available for dine-in from 1 to 14 May (Mother's Day) and 5 to 18 June (Father's Day) 2023. Full details of the set menus can be found here.
Mums and Dads get to indulge in dishes like Doubleboiled Chicken Soup with Black Garlic and Cha Shu Gu 黑 蒜 茶 树 菇 炖 鸡 汤 , Baked Pork Prime Rib marinated with Ume Sauce 乌梅排骨皇, Steamed Marble Goby or East Spotted Garoupa in Hong Kong style 清 蒸 笋 壳 / 东 星 班 鱼 , Braised Spiked Sea Cucumber and Flower Mushroom accompanied with Broccoli in Abalone Sauce 鲍汁花菇海參伴西兰花, Steamed Fragrant Rice with Lobster 龙虾檽米饭, Oven-baked Bird's Nest Egg Tart with Glutinous Rice Ball in Ginger Tea 燕窝蛋挞伴姜茶汤圆.
All set menus come with complimentary mini longevity buns. Additionally, mums and dads will receive complimentary gift of premium Silver Needle Flower Tea (worth $28.80)* - symbolising the epitome of happy family life, and a S$20 return dining voucher, with every table of set menu ordered. * While stock lasts.
Officially opened in May 2022, Ya Ge is a modern Chinese restaurant that serves fine traditional Chinese cuisine with a modern taste. The menu features a curated selection of delicate handmade dim sum and signature a la carte delicacies which showcase creative use of ingredients with traditional culinary techniques. The restaurant's ambience of contemporary elegance with celadon colour scheme complemented by warm and attentive service provides the perfect setting for celebrating a special occasion or intimate gatherings with friends and family.
Advance reservation is required. For reservations, diners can contact Ya Ge at telephone: 6818 6831 I WhatsApp: +65 8031 6831 or email: fnb@orchidhotel.com.sg.
Note to editors:
All prices are subject to service charge and GST.