Chinese New Year 2022
An Exquisite Reunion
As we are celebrating the Chinese New Year, Ya Ge has specially curated dishes for the occasion. Reunite with your loved ones over sumptuous set meals, priced at $68.80++ to $369++.
Toss to a prosperous and roar-sum new year with Ya Ge's tangy Smoked Salmon Yusheng with Yuzu Dressing. Choose from small Yu Sheng, fit for four to six persons or the large Yu Sheng, fit for eight to 10 persons. Indulge in our Chinese New Year special such as Sea Cucumber with Fa Cai, Buddha Jump Over Wall, 8-headed Abalone in Abalone Sauce, and more. Feast on Ya Ge's Prosperity Pen Cai, featuring Premium South African Sea Cucumber, 10 Head Abalone and more. Choose from the small pen cai, fit for up to six persons or the large pen cai, fit for up to 10 persons.
For those looking to celebrate the occasion at the comfort of your own home, CNY Special Takeaway menu is available on Deliveroo, foodpanda, GrabFood and take.app.
Reservations for dining in is recommended. 3-day advanced order for Pen Cai is required.
For reservation, please call +65 6818 6831 during operating hours or email us at fnb@orchidhotel.com.sg.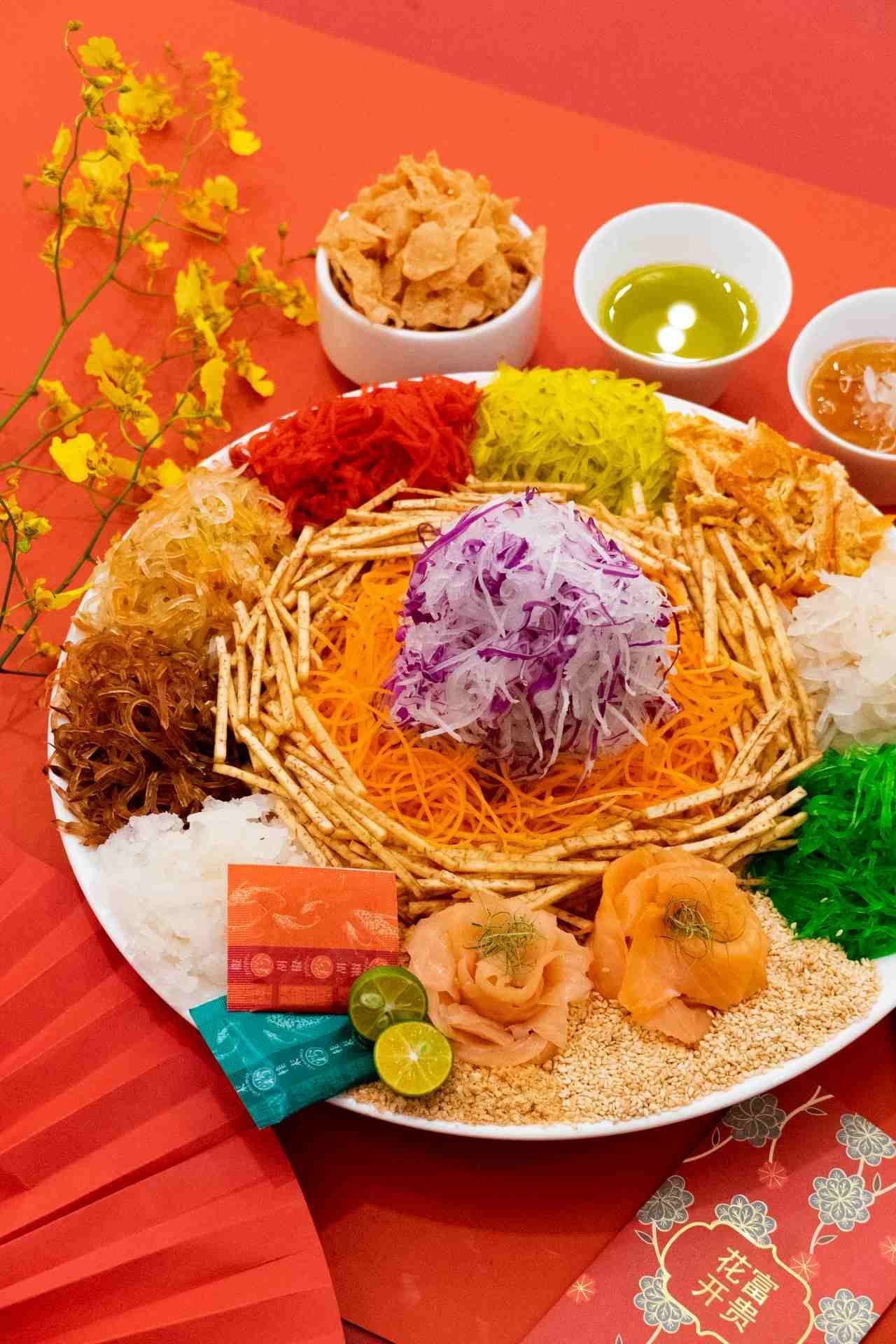 Set Menus:
$68.90++ per pax (minimum 2 pax)
烟熏三⽂⻥⽣
SMOKED SALMON YU SHENG
⼲⻉安⼼鸡炖汤
DOUBLE-BOILED AN XIN CHICKEN SOUP WITH DRIED SCALLOPS
蚝皇发菜花菇海参
SEA-CUCUMBER WITH "FA CAI" AND FLOWER MUSHROOM IN KING OYSTER SAUCE
松露酱炒带⼦蛋⽩
SCALLOP AND EGG WHITE IN
TRUFFLE SAUCE
XO酱虾球焖⾯⼘
XO SAUCE PRAWN BALL BRAISED MEE POK
杏仁糊汤圆
ALMOND PASTE WITH BLACK SESAME GLUTINOUS RICE BALL
$98.80++ per pax (minimum 2 pax)
鲍⻥烟熏三⽂⻥⽣
ABALONE AND SMOKED SALMON YU SHENG
泰式螺⽚海蜇 , 百⾹果虾球 ,低溫慢煮叉燒
THAI-STYLE CRUNCHY JELLYFISH, PASSION FRUIT PRAWN BALL AND SOUS VIDE CHAR SIEW
佛跳墙
BUDDHA JUMP OVER WALL
XO西芹炒⻰⻁班球
XO STIR-FRIED DRAGON-TIGER GAROUPA WITH CELERY
鲍⿂汁发菜南⾮刺参花菇伴虾籽西兰花苗
SOUTH-AFRICAN SEA CUCUMBER WITH FLOWER MUSHROOM, BROCCOLI FLOWER AND DRIED PRAWN ROE IN ABALONE SAUCE
蛋⽩海鲜浓汤焖⽶粉
BRAISED EGG-WHITE BEE HOON WITH SUPERIOR SEAFOOD BROTH
杨枝⽢露 蒸南⽠糕
MANGO POMELO SAGO AND STEAMED PUMPKIN CAKE
$369++ for 4 to 5 pax
烟熏三⽂⻥⽣
SMOKED SALMON YU SHENG
花胶安⼼鸡炖汤
DOUBLE-BOILED AN XIN CHICKEN SOUP WITH FISH MAW
松露炒带⼦
STIR-FRIED SCALLOPS WITH ASSORTED VEGETABLES AND TRUFFLE SAUCE
鲍⿂汁发菜花菇福袋⼋头鲍⻥
8-HEADED ABALONE WITH ABALONE SAUCE, MUSHROOM AND BROCCOLI
清蒸笋壳⻥
STEAMED MARBLE GOBY (SOON HOCK), SUPREME SOYA SAUCE
花茶⾹脆⽪鸡
CRISPY FLORAL TEA INFUSED CHICKEN
蚝皇荷叶飯
STEAMED LOTUS LEAF RICE WITH KING OYSTER SAUCE
桂花雪⼉杏脯糖⽔
OSMANTHUS SNOW FUNGUS PRESERVED PEACH SOUP
Yu Sheng:
柚⼦烟熏三⽂⻥⽣
SMOKED SALMON YUSHENG WITH YUZU DRESSING
$56.80++ (Small, 4-6 pax)
$86.80++ (Large, 8-10 pax)
Prosperity Pen Cai:
丰裕盆菜
PROSPERITY PEN CAI
$348++ (Small, 6 pax)
$688++ (Large, 10 pax)
For media inquiries, please contact our marketing department at marcom@orchidhotel.com.sg